As the time approaches to come up with a definitive name for the centre I've currently settled on THE SCOTTISH POP MUSIC EXHIBITION CENTRE. Things are by no means done and dusted, in fact far from it, but they will come to a head over the next couple of months so I need to make sure we have a name.
While this may be the overall name I would certainly expect to have a rolling number of exhibitions each with their own name as we had with "The Only Fun In Town". What can be done will clearly depend on funds and the building but the centre in all its glory would have a shop, a label, distribution for Scottish music, an advice drop-in centre, a venue or instore space, a website promoting Scottish music and possibly the ubiquitous cafe. While this may seem a little ambitious it is actually a response to what has been identified as needed and plans are in an advanced stage on all fronts.
A large part of what the centre would be about would be promoting new music, giving sensible and realistic advice to young bands and encouraging young people to get out to see small gigs but I am incredibly cynical of  the music industry's targeting of young people to get funding. The idea that some 26 year old comes in for help and is refused because we are in a scheme for 16 to 25 year olds for instance is never going to happen. 
Scottish distribution has long been identified as needed and will be essential if I am to capitalise on interest that has been shown. There are many out there who would like to support Scottish artists but understandably do not want to deal with dozens of different bands and labels. There is overwhelming evidence that if you put good music that is well promoted in front of a good footfall then it will sell. What is needed is a well curated selection of artists old and new.
There are many more people I need to contact who if they choose to will be a great help with future exhibitions but I'm happy that we are now able to comprehensively cover all eras from the early sixties to the modern day. It goes without saying that Avalanche has a worldwide network of shops, labels and individuals that are fans of Scottish bands and will use those connections  to their full potential along with its extensive social media presence.
I have had some very useful expert advice and support for which I am very grateful but funding is a real issue and it is no consolation that I am not alone ! Wonderful as all the above sounds and there is even more good news to follow it will count for nothing if there is no financial support and I have already put more time and money into this than has been sensible. The same determination that got this far is not best suited to getting this project over the line and I am well aware of that. Now is the time for those who can help financially either from a business or a personal perspective to step forward and I'm assured further funding would then follow.
To put this in context the proposed new concert hall's £10m private investment has attracted £20m council and government investment. One per cent of that would be all it would take to make all the above and more viable. As before my contact email for anybody wanting to know more is kevinavalanche@hotmail.com
First of all can I say the cost of reaching this point has been too high. Had I known it would take this long and cost so much I wouldn't have done it. Having said that all the people I spoke to who had had a similar idea to archive and preserve in some way the fantastic history of Scottish popular music had never even started due to lack of funding so I'm proud that I've got to where we are. In the arts world a good idea always plays second fiddle to funding !
What is frustrating is that the idea was really perfect in its timing two years ago and yet those who could have helped didn't. What I didn't realise was when I spoke to Creative Scotland about sending some of Avalanche's best selling Scottish albums worldwide to shops I knew would be supportive as well as having special sections in UK shops that was exactly what was being recommended in the independent report. Setting up distribution to back this up was something that was accepted at the time as being extremely useful but little did I know it again featured in the report along with manufacture. Sadly they had felt they couldn't help. 
Now with dowloads and streaming coming to the fore it has been felt more recently that manufacture might not be an issue in the future but there is a concern that Creative Scotland will feel the same way about retail and that would be huge mistake. There have been many reports that have shown that if you put good music in front of people they will buy it. The issue with record shops was people stopped visiting and I had always maintained that other avenues such as cafes and cultural venues should be considered. Here of course Creative Scotland should have some influence and yet have done nothing to make sure that the music of the artists they support has a beter chance to reach people than the black hole that is available online.
Now of course record shops have had a resurgence along with vinyl but new music is actually struggling more than ever as sales go to the latest reissued albums. However marketed properly in the right places it would still be possible to break new music in conjunction with social media and promotion. What Creative Scotland needs and is not mentioned in reports is in-house promotion for artists. When it does give artists funding they waste large sums of money paying English PR companies to do a job that at best is average and at worst is no better than the artist could have done themselves. Amazingly social media is something that is poorly handled from all sides. Again so much more could be done.
Going back to the centre which of course could incorporate many of the things identified as being needed there has been without doubt a large amount of snobbishness as to the place of pop music in Scotland's history. I have to thank the Fruitmarket Gallery both for the opportunity they gave to show what could be done and for adding credibility to the idea. Having said that it would be disingenuous of me given what I know to let these music elitists dig themselves into a hole I know they won't be able to get out of. Suffice to say they wil be proved wrong ! 
Without a doubt there are decisions to be made and they will be made in the coming week.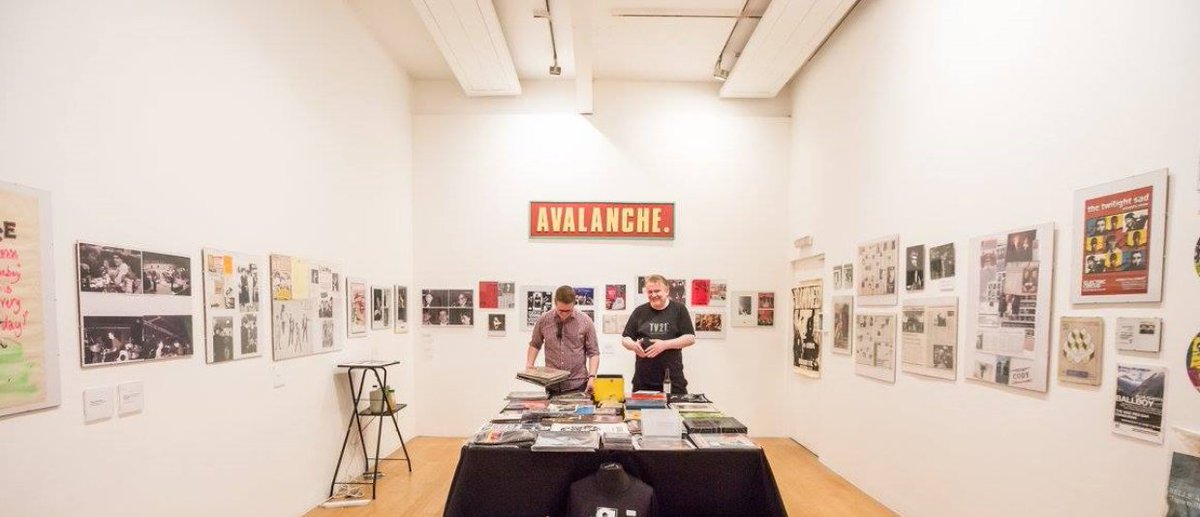 I've finally recovered from the Fruitmarket Gallery exhibition and contemplating how everything can be moved forward. I had fairly relentless advice to not give up on Creative Scotland as the centre and exhibition should be exactly what they should be funding. Consequently I did have a close look at how their funding works with I have to say help from Creative Scotland themselves but it has raised far more questions than given answers. Having said that I'm now very clear on what the approach has to be and also what indeed needs to be done if music venues are to be supported in the same way theatres are now.
Finally getting the pop-up exhibition after waiting so long dealing with the City Art Centre it didn't feel like winning but then it was never about winning. It wasn't about beating the system and it certainly wasn't about blaming people though a few people have delayed the idea by years. It was about showing it works and hopefully with a lot of help we did that.
While the council supports in theory I've yet to get any positive help officially and now a new administration is in place I'm waiting to hear what if anything they feel they can do. While I've been given lots of valuable advice, and as I say the exhibition was the result of many people's help, I've yet to receive any firm offers of financial support or sponsorship and whatever happens with Creative Scotland that needs to be forthcoming. I must ask people to seriously consider what they can do to help with this. There will I know be even more positive news in the autumn for the centre but not only is it important to keep the momentum going but there has been so much interest in whether there wil be something for the Festival it would be a shame to let people down.
There were many more people I could have spoken to before the exhibition and thanks to the fantastic feedback even more afterwards. Ironically a bigger plan fits better within the Creative Scotland funding structure and there is clearly huge potential in the centre but that is all too far away and they will want to see other support anyway. This is not something that would be resolved by crowdfunding. This is something that is a fantastic oportunity to create goodwill to a business or for somebody with the wherewithal to see something very positive from their involvement. It could not have reached this point without a huge input of my own cash and time so I'm not asking for anything I haven't done myself.  
I'm happy to discuss the opportunities that lie ahead privately and look forward to hearing from individuals and businesses alike. My email is kevinavalanche@hotmail.com
Once again can I thank everybody who helped make the exhibition happen and the 1,500+ people who came.
In the last figures given by Creative Scotland in their press release they said that £12.8M had been allocated to music and this represented 18.3% of their total allocation. I asked them how this broke down by genre and they said they couldn't say but they did very quickly provide me with all the grants involved so the "rock & pop" figure could be extrapolated.
The first thing that is obvious is that a huge amount of money is tied up in Youth Music Initiative funding. Of the 230 grants made 101 were covered by the YMI including most of the largest amounts. This funding was never available to musicians so should really be removed from the figures in my opinion. My understanding is this money is allocated under direction rather than at the discretion of Creative Scotland.
When it was suggested I should look at these figures by an arts funding veteran I said I didn't really have time. A week later another old hand to all this said it wouldn't take ten minutes to see the inequalities that were present and he was certainly right. Much more of all that another time as I want to look into things further and give Creative Scotland a chance to respond. Suffice to say "rock and pop" artists receive considerably less than 1% of the funds allocated to music and in fact even if money given to Wide Days and funding the Great Escape is included it doesn't reach 1%.
Here then for those asking are the "rock and pop" awards that were given.
Firstly Wide Days received £40,000 and Great Escape funding stretched to £9,150 plus Wide Days received £8,018 for the networking reception they orgaqnised. There was also £2,500 to Nothing Fver Happens Here at Sumerhall.
Artists
Be Charlotte £15,000   (South East Asia Territory launch)
Martha Ffion £10,560  (Debut album)
Modern Studies + Lomond Campbell  £10,000  (showcase performances)
Best Girl Athlete  £9,080   (Second album recording, production and promotion)
Mt. Doubt  £7,400   (2 EPs in 2017)
Bdy_Prts  £7,000   (Fly, Invisible Hero)
Youth of America (Simon Shaw)  £6,412    (Album recording, promo video and launch event)
Garden of Elks  £5,500   (Production of second record)
Pinact (Corrie Gillies)  £4,500   (Second album recording)
Honeyblood (Christina Tweedale)  £4,500   (US autumn tour 2016)
Roddy Woomble  £3,000   (Working title – miserable miracles)
Inkfields (Samuel James-Griffiths)  £1,700   (Third EP)
To put this in context the total here is easily less than half say of the £225K regular funding awarded to Enterprise Music Scotland  who "provide financial support to promoters and other constituted bodies promoting chamber music in their local area" among other chamber music related things.
The largest funding figure outwith YMI is for the Scottish Ensemble who received £333,333 as part of regular funding. their wikipedia page states
Scottish Ensemble is the UK's only professional string orchestra. Founded in 1969 and based in Glasgow, Scottish Ensemble is built around a core of 12 string players who perform together under Artistic Director and violinist Jonathan Morton, standing up and without a conductor.
Now several of those rock and pop awards seem inadvisable to me and given Creative Scotland's criteria I'm not even sure how they could be awarded but that really is nothing in the big picture of how funding is allocated. All of this is before we even get onto the milions being poured into theatres and the millions going to art galleries whose total visitor numbers for the year are less than one decent Scottish premier league football match. 
And there probably lies the nub of the problem. Yes football is not art but folk enjoy it and it very much has a value to the wellbeing of people. Rock and pop music as it has to be called has a huge value to people and at its best deserves to be compared to all the other art forms but a small and very influential minority dismiss it as not even worthy of consideration.
In a world where high rise blocks of flats are clad with inflammable material this may not be the biggest of scandals but given the enormous changes that have taken place in both people's attitudes and access to information and entertainment via the internet since the lottery funding that lies at the heart of all this first started the current situation in which funding is made based on what a very small minority consider fitting can not carry on.  
Lots of questions about the exhibition so I thought I'd try to cover them in the blog.
What period will it cover ? It will cover from the early sixties to the present.
The tricky bit was always going to be the sixties. I moved to Edinburgh in 1977 and Avalanche opened in 1984 so a large chunk of trying to cover from the early 60s to the modern day was within my own experience. Early on I found interesting gigs in which bands that would go on to be huge played small places. The Who playing McGoos in the High Street or The Beatlers appearing in Elgin are good examples.
What was lacking was enough material and information about the Scottish bands of that time as there were few recordings and only a handful of band members went on to be involved in music into the seventies.
However after the last article in The Evening
News several folk came forward and could not be more helpful. It is always good to get a thread that ties things together and Pete Seaton's musical instrument shop was clearly an incredibly important part of the scene. I was lucky enough to meet up with his son Murray who many will know for his drum shop and then have a chat with Ian Orr singer with Edinburgh beat group The Athenians who recorded the very first Scottish single and Ian only confirmed the importance of Pete's shop.
And it isn't just Edinburgh bands of course. The west coast had The Beatstalkers and The Poets and Hawick the psych band The Ceiling Light Machine. The Beatstalkers bass player Alan Mair went on to play with The Only Ones !
From the sixties we can then move forward to Rollermania and other bands like Pilot with links back to the sixties.
Don't worry I would never ever forget Alex Harvey and SAHB. You have to watch the dance routine !
Edinburgh Evening News Thursday 18th May 2017
I hope in the coming months Edinburgh Council looks at its attitude to the arts and who is being reached. Very much as has happened in music where an awful lot of people have been lost somewhere between the banality of Ed Sheeran and the weird cool hipster stuff, the same seems to have happened in the arts in general.
Now with music nobody is quite sure how many people are actually lost to music and how many are simply streaming but given there are figures for these things there is still no doubt that the middle ground does not fare well.
Undoubtedly nostalgia is playing a big part in music these days but recently I've been exposed to Capital Radio and Mr Ed Sheeran more than I'm happy with after being in my daughter's car and I've realised that even Ed's songs are often nostalgic and the man is only 26!
 Now of course there will always be a place for the left field whether that is in the visual arts, writing or music but the argument often used that this leads to more accessible "art" is overplayed and never more so than in the world of fashion.
All this brings me yet again to the current generation just discovering all these things for the first time. Maybe there needs to be lessons in the schools!
Cool or interesting places are closing down all over the world and understandably they often hide behind other issues when the number one problem is simply people not supporting in sufficient numbers.
It has always been the way that as folk got older and jobs and families started to become a priority that nights out and even Saturday record shop trips became less frequent.
However, there was always a new crop of keen teenagers and students ready to fill the gap and that is what has not happened now for over a decade.
With the surprising departure of Richard Lewis as the convener for culture and sport we will need to see who takes over the role but while other arts bodies spend tens and sometimes hundreds of thousands of pounds on events attended by fewer people than a busy football match the council is in a position, both because of the buildings it owns and the funding it has, to make a real difference.
Who would have thought vinyl and physical books would still be doing so well so maybe it is too soon to give up on younger generations getting back into high street shopping and going out at night. What we do need to do is make those experiences more pleasurable and of course for a place like Edinburgh with so many visitors that can only be something that improves the overall vibe of the city.
My daytime viewing tells me that vintage is very "on trend", though personally I can't remember a time when it wasn't. Edinburgh could do vintage so well and while the council's last attempt was a bit of a damp squib the potential is huge, especially at Christmas when those stalls could be so much more interesting.
For some "art for art's sake" is the usual English rendering of a French slogan from the early 19th century –"l'art pour l'art" – and expresses a philosophy that the intrinsic value of art, and the only "true" art, is divorced from any didactic, moral, or utilitarian function. For others it is a 10cc song.
Both answers are equally valid and sometimes the arts community and its funders need to be reminded of that !
Poster is a stick-on for exhibition
There has been a great response to Liam Rudden's recent piece in the paper on the Scottish music exhibition at the Fruitmarket Gallery in June and while this is just a taster for bigger things to come there will still be a fantastic selection of memorabilia on show some never seen before and others that have been tucked away for thirty years or more.
Some may remember the demise of the Picture House being delayed when councillors heard that David Bowie had played there. While it wasn't enough to save it in the end only this week a friend and Bowie fan got in touch to offer the original poster.
Still very much looking for more things and while all eras are welcome the sixties and early seventies are proving the hardest to find material from. Any old posters, tickets or photos along with anything else would be great. Items can be donated or loaned.
Vinyl collections are also sought for possible display but also for sale and I'm very happy to buy in collections small and large. I can be contacted on kevinavalanche@hotmail.com or anything of interest can be brought along to the Fruitmarket Gallery when the exhibition is on from June 16-18. Visit http://www.fruitmarket.co.uk/event/exhibition-fun-town/ for more details.
http://www.edinburghnews.scotsman.com/news/opinion/kevin-buckle-art-for-art-s-sake-1-4447999
Edinburgh Evening News Thursday 11th May 2017
After last week's nod to music nostalgia it seemed only fair to focus on the current crop of bands this week and of course by the end of the month we will know which artists have made the longlist for the Scottish Album of the Year award.
Tactical voting by the smaller genres always sees them well represented while the small indie band vote tends to be split with the result that there are always a few worthy bands that don't make the cut. However there is a list available on the award's website of all the eligible bands and it is well worth spending some time familiarising yourself with the albums listed.
Avalanche stalwarts King Creosote, Kid Canaveral, Malcom Middleton, Meursault and Mogwai all have albums included as do new kids on the block Modern Studies even if its members aren't exactly new to Avalanche. Proving that you don't have to begin with K or M Frightened Rabbit, RM Hubbert, Randolph's Leap, Rick Redbeard and PAWS are also among this year's contenders and suffice to say there are many more worth a listen too.
With over 260 albums to choose from you won't get through them all in one sitting but you are certain to find a few new favourites if you persevere.
The longlist of 20 albums is announced on Wednesday, May 24, at the 02ABC Glasgow when both Avalanche favourites Admiral Fallow and Steve Mason will be playing.
Quite whether the amount of money spent on the award is justified given in year's gone by it has had a fairly limited reach outwith Scotland is another matter but you can only hope that whoever wins this year is an artist that wil have a wider appeal. In many awards these days there does seem to be a certain desire to be a litle leftfield and a little quirky and the good old indie band gets passed over no matter how deserving they might be.
Some might argue that the album as a format is no longer relevant for how an artist should be judged but I think for now it is still the aim of every self-respecting band to release an album even if that is only digitally so the album as a format will be a benchmark for some time to come.
Moving forward what is left of the Scottish music industry needs to look at how it can help bands break out from what is often a very small circle of fans and while the philosophy these days is to make as much money from your superfans as possible not only do most bands have very few superfans indeed beyond their mums and girlfriends/boyfriends but they also cannot make the kind of money from these fans that bigger bands do with their expensive "bundles". I know of no band who would rather have 50 high-spending superfans than 500 loyal fans spending less. I get in trouble for saying it but most bands these days are simply not good enough at a time when music vies for attention with other things far more than it did in the "good old days". Songs like Into The Valley, Chelsea Girl, Sorry For Laughing, Candyskin, Safety Net and many others still stand the test of time. Albums like Psychocandy and The Midnight Organ Fight should be how new bands judge themselves.
Being lazily alt-rock, shoegaze or indie folk is just not acceptable for young bands while artists like Filthy Tongues and Emma Pollock are still producing great work well into their careers.
Quite why things are like this nobody seems to be quite sure but one argument that certainly rings true is that "the kids" don't hang around in cool bars any more forming bands. It was interesting to hear on the Big Gold Dream documentary that they hung around in record shops to meet like-minded people.
It reminded me of the Icelandic artist Benni Hem Hem. Already well known in his own country, he arrived in Scotland wanting to meet other musicians. His plan was simple – he just stood around in Avalanche's Cockburn Street shop on a busy Saturday afternoon chatting to other musicians and that night went to a "cool" gig. By Monday he had a new circle of friends. In the middle of the week he returned saying he was amazed how easy it was to meet folk here in Edinburgh.
Social media and streaming films and programmes has a lot to answer for !
http://www.edinburghnews.scotsman.com/news/opinion/kevin-buckle-albums-stilll-a-worthy-benchmark-for-bands-1-4441880
Edinburgh Evening News Thursday 4th May 2017
As the Skids embark on the first dates of their UK 40th anniversary tour this week, arriving in Edinburgh tomorrow, it is fitting that I have spent the last week speaking to an array of journalists, photographers, promoters and musicians in preparation for the History of Scottish Music Centre's first exhibition in June at the Fruitmarket Gallery.
Folk could not have been more helpful and every contact recommends more people who may have their own archive or story to tell. Some are still based in Edinburgh or Glasgow but no matter where people are in the world now they are keen to help and get involved.
Anyway more of this another time. Fast forward to today – see what I did there? – and Skids are back to remind everybody that Fife produced its fair share of bands during that time if not a stand out label. Having said that one of the best fanzines of the time Deadbeat was based there.
If you haven't got a ticket for the Edinburgh gig I'm afraid it is sold out though it never does any harm to check with the venue, the Liquid Room. As I type this there are only a few tickets left for their other imminent Scottish gigs.
Not everybody would agree but by the high standards of the past things are fairly quiet for new Scottish bands at the moment and it is to be hoped that when the time comes, as it inevitably will, we still have the venues and the ability to make the most of it.
The Skids play in Scotland at PJ Molloys, Dunfermline, tonight; the Liquid Room in Edinburgh tomorrow; ABC, Glasgow, 6 May; Montrose Town Hall, 29 June; Glen Pavilion, Dunfermline, 30 June; Inverness Ironworks, 4 October and Beat Generator, Dundee, 5 October as part of a 30 date UK tour.
Where is our city's Hydro?
According to Wikipedia the SSE Hydro handled 751,487 ticket sales in 2016, making it the eighth-busiest music arena in the world in terms of ticket sales. While I personally would not enjoy seeing any artist in an arena of that size – the Hydro holds 13,000 – there is no doubt that the citizens of Edinburgh would very much like to see an arena with that capacity be built.
I'm not sure exactly where would be the best place for such a building and while nobody would suggest Edinburgh Council should be too involved in such a venture I do think it would be wise for the council to actively encourage it and, assuming it can be agreed on what it looks like, give the good folk of Edinburgh something they actually want.