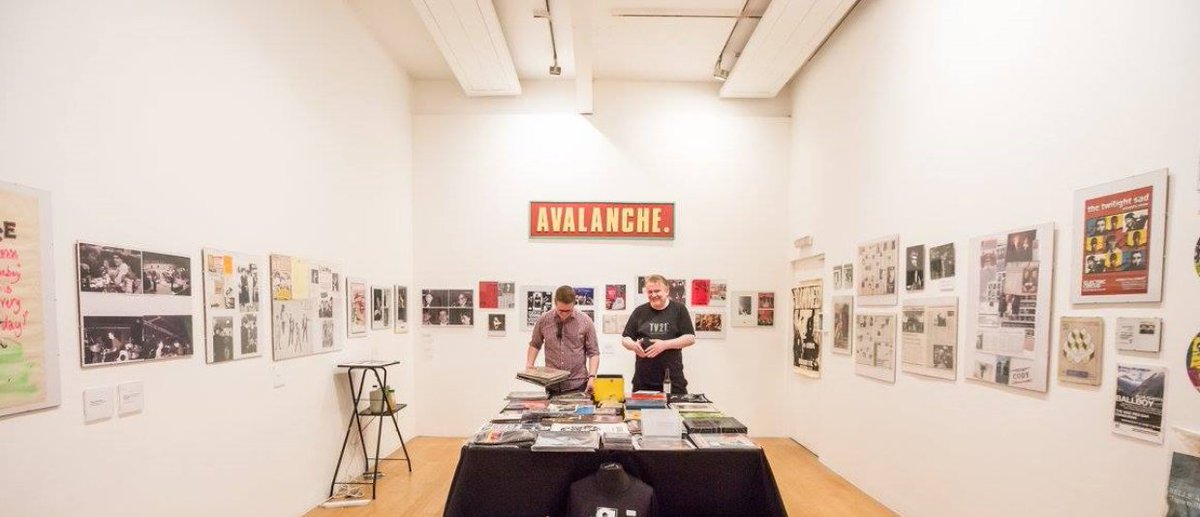 I've finally recovered from the Fruitmarket Gallery exhibition and contemplating how everything can be moved forward. I had fairly relentless advice to not give up on Creative Scotland as the centre and exhibition should be exactly what they should be funding. Consequently I did have a close look at how their funding works with I have to say help from Creative Scotland themselves but it has raised far more questions than given answers. Having said that I'm now very clear on what the approach has to be and also what indeed needs to be done if music venues are to be supported in the same way theatres are now.
Finally getting the pop-up exhibition after waiting so long dealing with the City Art Centre it didn't feel like winning but then it was never about winning. It wasn't about beating the system and it certainly wasn't about blaming people though a few people have delayed the idea by years. It was about showing it works and hopefully with a lot of help we did that.
While the council supports in theory I've yet to get any positive help officially and now a new administration is in place I'm waiting to hear what if anything they feel they can do. While I've been given lots of valuable advice, and as I say the exhibition was the result of many people's help, I've yet to receive any firm offers of financial support or sponsorship and whatever happens with Creative Scotland that needs to be forthcoming. I must ask people to seriously consider what they can do to help with this. There will I know be even more positive news in the autumn for the centre but not only is it important to keep the momentum going but there has been so much interest in whether there wil be something for the Festival it would be a shame to let people down.
There were many more people I could have spoken to before the exhibition and thanks to the fantastic feedback even more afterwards. Ironically a bigger plan fits better within the Creative Scotland funding structure and there is clearly huge potential in the centre but that is all too far away and they will want to see other support anyway. This is not something that would be resolved by crowdfunding. This is something that is a fantastic oportunity to create goodwill to a business or for somebody with the wherewithal to see something very positive from their involvement. It could not have reached this point without a huge input of my own cash and time so I'm not asking for anything I haven't done myself.  
I'm happy to discuss the opportunities that lie ahead privately and look forward to hearing from individuals and businesses alike. My email is kevinavalanche@hotmail.com
Once again can I thank everybody who helped make the exhibition happen and the 1,500+ people who came.
In the last figures given by Creative Scotland in their press release they said that £12.8M had been allocated to music and this represented 18.3% of their total allocation. I asked them how this broke down by genre and they said they couldn't say but they did very quickly provide me with all the grants involved so the "rock & pop" figure could be extrapolated.
The first thing that is obvious is that a huge amount of money is tied up in Youth Music Initiative funding. Of the 230 grants made 101 were covered by the YMI including most of the largest amounts. This funding was never available to musicians so should really be removed from the figures in my opinion. My understanding is this money is allocated under direction rather than at the discretion of Creative Scotland.
When it was suggested I should look at these figures by an arts funding veteran I said I didn't really have time. A week later another old hand to all this said it wouldn't take ten minutes to see the inequalities that were present and he was certainly right. Much more of all that another time as I want to look into things further and give Creative Scotland a chance to respond. Suffice to say "rock and pop" artists receive considerably less than 1% of the funds allocated to music and in fact even if money given to Wide Days and funding the Great Escape is included it doesn't reach 1%.
Here then for those asking are the "rock and pop" awards that were given.
Firstly Wide Days received £40,000 and Great Escape funding stretched to £9,150 plus Wide Days received £8,018 for the networking reception they orgaqnised. There was also £2,500 to Nothing Fver Happens Here at Sumerhall.
Artists
Be Charlotte £15,000   (South East Asia Territory launch)
Martha Ffion £10,560  (Debut album)
Modern Studies + Lomond Campbell  £10,000  (showcase performances)
Best Girl Athlete  £9,080   (Second album recording, production and promotion)
Mt. Doubt  £7,400   (2 EPs in 2017)
Bdy_Prts  £7,000   (Fly, Invisible Hero)
Youth of America (Simon Shaw)  £6,412    (Album recording, promo video and launch event)
Garden of Elks  £5,500   (Production of second record)
Pinact (Corrie Gillies)  £4,500   (Second album recording)
Honeyblood (Christina Tweedale)  £4,500   (US autumn tour 2016)
Roddy Woomble  £3,000   (Working title – miserable miracles)
Inkfields (Samuel James-Griffiths)  £1,700   (Third EP)
To put this in context the total here is easily less than half say of the £225K regular funding awarded to Enterprise Music Scotland  who "provide financial support to promoters and other constituted bodies promoting chamber music in their local area" among other chamber music related things.
The largest funding figure outwith YMI is for the Scottish Ensemble who received £333,333 as part of regular funding. their wikipedia page states
Scottish Ensemble is the UK's only professional string orchestra. Founded in 1969 and based in Glasgow, Scottish Ensemble is built around a core of 12 string players who perform together under Artistic Director and violinist Jonathan Morton, standing up and without a conductor.
Now several of those rock and pop awards seem inadvisable to me and given Creative Scotland's criteria I'm not even sure how they could be awarded but that really is nothing in the big picture of how funding is allocated. All of this is before we even get onto the milions being poured into theatres and the millions going to art galleries whose total visitor numbers for the year are less than one decent Scottish premier league football match. 
And there probably lies the nub of the problem. Yes football is not art but folk enjoy it and it very much has a value to the wellbeing of people. Rock and pop music as it has to be called has a huge value to people and at its best deserves to be compared to all the other art forms but a small and very influential minority dismiss it as not even worthy of consideration.
In a world where high rise blocks of flats are clad with inflammable material this may not be the biggest of scandals but given the enormous changes that have taken place in both people's attitudes and access to information and entertainment via the internet since the lottery funding that lies at the heart of all this first started the current situation in which funding is made based on what a very small minority consider fitting can not carry on.  
Lots of questions about the exhibition so I thought I'd try to cover them in the blog.
What period will it cover ? It will cover from the early sixties to the present.
The tricky bit was always going to be the sixties. I moved to Edinburgh in 1977 and Avalanche opened in 1984 so a large chunk of trying to cover from the early 60s to the modern day was within my own experience. Early on I found interesting gigs in which bands that would go on to be huge played small places. The Who playing McGoos in the High Street or The Beatlers appearing in Elgin are good examples.
What was lacking was enough material and information about the Scottish bands of that time as there were few recordings and only a handful of band members went on to be involved in music into the seventies.
However after the last article in The Evening
News several folk came forward and could not be more helpful. It is always good to get a thread that ties things together and Pete Seaton's musical instrument shop was clearly an incredibly important part of the scene. I was lucky enough to meet up with his son Murray who many will know for his drum shop and then have a chat with Ian Orr singer with Edinburgh beat group The Athenians who recorded the very first Scottish single and Ian only confirmed the importance of Pete's shop.
And it isn't just Edinburgh bands of course. The west coast had The Beatstalkers and The Poets and Hawick the psych band The Ceiling Light Machine. The Beatstalkers bass player Alan Mair went on to play with The Only Ones !
From the sixties we can then move forward to Rollermania and other bands like Pilot with links back to the sixties.
Don't worry I would never ever forget Alex Harvey and SAHB. You have to watch the dance routine !
Edinburgh Evening News Thursday 18th May 2017
I hope in the coming months Edinburgh Council looks at its attitude to the arts and who is being reached. Very much as has happened in music where an awful lot of people have been lost somewhere between the banality of Ed Sheeran and the weird cool hipster stuff, the same seems to have happened in the arts in general.
Now with music nobody is quite sure how many people are actually lost to music and how many are simply streaming but given there are figures for these things there is still no doubt that the middle ground does not fare well.
Undoubtedly nostalgia is playing a big part in music these days but recently I've been exposed to Capital Radio and Mr Ed Sheeran more than I'm happy with after being in my daughter's car and I've realised that even Ed's songs are often nostalgic and the man is only 26!
 Now of course there will always be a place for the left field whether that is in the visual arts, writing or music but the argument often used that this leads to more accessible "art" is overplayed and never more so than in the world of fashion.
All this brings me yet again to the current generation just discovering all these things for the first time. Maybe there needs to be lessons in the schools!
Cool or interesting places are closing down all over the world and understandably they often hide behind other issues when the number one problem is simply people not supporting in sufficient numbers.
It has always been the way that as folk got older and jobs and families started to become a priority that nights out and even Saturday record shop trips became less frequent.
However, there was always a new crop of keen teenagers and students ready to fill the gap and that is what has not happened now for over a decade.
With the surprising departure of Richard Lewis as the convener for culture and sport we will need to see who takes over the role but while other arts bodies spend tens and sometimes hundreds of thousands of pounds on events attended by fewer people than a busy football match the council is in a position, both because of the buildings it owns and the funding it has, to make a real difference.
Who would have thought vinyl and physical books would still be doing so well so maybe it is too soon to give up on younger generations getting back into high street shopping and going out at night. What we do need to do is make those experiences more pleasurable and of course for a place like Edinburgh with so many visitors that can only be something that improves the overall vibe of the city.
My daytime viewing tells me that vintage is very "on trend", though personally I can't remember a time when it wasn't. Edinburgh could do vintage so well and while the council's last attempt was a bit of a damp squib the potential is huge, especially at Christmas when those stalls could be so much more interesting.
For some "art for art's sake" is the usual English rendering of a French slogan from the early 19th century –"l'art pour l'art" – and expresses a philosophy that the intrinsic value of art, and the only "true" art, is divorced from any didactic, moral, or utilitarian function. For others it is a 10cc song.
Both answers are equally valid and sometimes the arts community and its funders need to be reminded of that !
Poster is a stick-on for exhibition
There has been a great response to Liam Rudden's recent piece in the paper on the Scottish music exhibition at the Fruitmarket Gallery in June and while this is just a taster for bigger things to come there will still be a fantastic selection of memorabilia on show some never seen before and others that have been tucked away for thirty years or more.
Some may remember the demise of the Picture House being delayed when councillors heard that David Bowie had played there. While it wasn't enough to save it in the end only this week a friend and Bowie fan got in touch to offer the original poster.
Still very much looking for more things and while all eras are welcome the sixties and early seventies are proving the hardest to find material from. Any old posters, tickets or photos along with anything else would be great. Items can be donated or loaned.
Vinyl collections are also sought for possible display but also for sale and I'm very happy to buy in collections small and large. I can be contacted on kevinavalanche@hotmail.com or anything of interest can be brought along to the Fruitmarket Gallery when the exhibition is on from June 16-18. Visit http://www.fruitmarket.co.uk/event/exhibition-fun-town/ for more details.
http://www.edinburghnews.scotsman.com/news/opinion/kevin-buckle-art-for-art-s-sake-1-4447999
Edinburgh Evening News Thursday 11th May 2017
After last week's nod to music nostalgia it seemed only fair to focus on the current crop of bands this week and of course by the end of the month we will know which artists have made the longlist for the Scottish Album of the Year award.
Tactical voting by the smaller genres always sees them well represented while the small indie band vote tends to be split with the result that there are always a few worthy bands that don't make the cut. However there is a list available on the award's website of all the eligible bands and it is well worth spending some time familiarising yourself with the albums listed.
Avalanche stalwarts King Creosote, Kid Canaveral, Malcom Middleton, Meursault and Mogwai all have albums included as do new kids on the block Modern Studies even if its members aren't exactly new to Avalanche. Proving that you don't have to begin with K or M Frightened Rabbit, RM Hubbert, Randolph's Leap, Rick Redbeard and PAWS are also among this year's contenders and suffice to say there are many more worth a listen too.
With over 260 albums to choose from you won't get through them all in one sitting but you are certain to find a few new favourites if you persevere.
The longlist of 20 albums is announced on Wednesday, May 24, at the 02ABC Glasgow when both Avalanche favourites Admiral Fallow and Steve Mason will be playing.
Quite whether the amount of money spent on the award is justified given in year's gone by it has had a fairly limited reach outwith Scotland is another matter but you can only hope that whoever wins this year is an artist that wil have a wider appeal. In many awards these days there does seem to be a certain desire to be a litle leftfield and a little quirky and the good old indie band gets passed over no matter how deserving they might be.
Some might argue that the album as a format is no longer relevant for how an artist should be judged but I think for now it is still the aim of every self-respecting band to release an album even if that is only digitally so the album as a format will be a benchmark for some time to come.
Moving forward what is left of the Scottish music industry needs to look at how it can help bands break out from what is often a very small circle of fans and while the philosophy these days is to make as much money from your superfans as possible not only do most bands have very few superfans indeed beyond their mums and girlfriends/boyfriends but they also cannot make the kind of money from these fans that bigger bands do with their expensive "bundles". I know of no band who would rather have 50 high-spending superfans than 500 loyal fans spending less. I get in trouble for saying it but most bands these days are simply not good enough at a time when music vies for attention with other things far more than it did in the "good old days". Songs like Into The Valley, Chelsea Girl, Sorry For Laughing, Candyskin, Safety Net and many others still stand the test of time. Albums like Psychocandy and The Midnight Organ Fight should be how new bands judge themselves.
Being lazily alt-rock, shoegaze or indie folk is just not acceptable for young bands while artists like Filthy Tongues and Emma Pollock are still producing great work well into their careers.
Quite why things are like this nobody seems to be quite sure but one argument that certainly rings true is that "the kids" don't hang around in cool bars any more forming bands. It was interesting to hear on the Big Gold Dream documentary that they hung around in record shops to meet like-minded people.
It reminded me of the Icelandic artist Benni Hem Hem. Already well known in his own country, he arrived in Scotland wanting to meet other musicians. His plan was simple – he just stood around in Avalanche's Cockburn Street shop on a busy Saturday afternoon chatting to other musicians and that night went to a "cool" gig. By Monday he had a new circle of friends. In the middle of the week he returned saying he was amazed how easy it was to meet folk here in Edinburgh.
Social media and streaming films and programmes has a lot to answer for !
http://www.edinburghnews.scotsman.com/news/opinion/kevin-buckle-albums-stilll-a-worthy-benchmark-for-bands-1-4441880
Edinburgh Evening News Thursday 4th May 2017
As the Skids embark on the first dates of their UK 40th anniversary tour this week, arriving in Edinburgh tomorrow, it is fitting that I have spent the last week speaking to an array of journalists, photographers, promoters and musicians in preparation for the History of Scottish Music Centre's first exhibition in June at the Fruitmarket Gallery.
Folk could not have been more helpful and every contact recommends more people who may have their own archive or story to tell. Some are still based in Edinburgh or Glasgow but no matter where people are in the world now they are keen to help and get involved.
Anyway more of this another time. Fast forward to today – see what I did there? – and Skids are back to remind everybody that Fife produced its fair share of bands during that time if not a stand out label. Having said that one of the best fanzines of the time Deadbeat was based there.
If you haven't got a ticket for the Edinburgh gig I'm afraid it is sold out though it never does any harm to check with the venue, the Liquid Room. As I type this there are only a few tickets left for their other imminent Scottish gigs.
Not everybody would agree but by the high standards of the past things are fairly quiet for new Scottish bands at the moment and it is to be hoped that when the time comes, as it inevitably will, we still have the venues and the ability to make the most of it.
The Skids play in Scotland at PJ Molloys, Dunfermline, tonight; the Liquid Room in Edinburgh tomorrow; ABC, Glasgow, 6 May; Montrose Town Hall, 29 June; Glen Pavilion, Dunfermline, 30 June; Inverness Ironworks, 4 October and Beat Generator, Dundee, 5 October as part of a 30 date UK tour.
Where is our city's Hydro?
According to Wikipedia the SSE Hydro handled 751,487 ticket sales in 2016, making it the eighth-busiest music arena in the world in terms of ticket sales. While I personally would not enjoy seeing any artist in an arena of that size – the Hydro holds 13,000 – there is no doubt that the citizens of Edinburgh would very much like to see an arena with that capacity be built.
I'm not sure exactly where would be the best place for such a building and while nobody would suggest Edinburgh Council should be too involved in such a venture I do think it would be wise for the council to actively encourage it and, assuming it can be agreed on what it looks like, give the good folk of Edinburgh something they actually want.
Edinburgh Evening News Thursday 27th April 2017
I attended the meeting last Thursday morning at the Usher Hall to discuss whether Edinburgh needed a music champion. The general opinion was that while it was probably a good idea it would be too much for one person to take on and certainly it would need financial support from several sectors.
The other phrase used was "night mayor" but in my mind those two titles are a little different. A music champion would encompass more than just being involved in the night life of the city and promote Edinburgh as a destination for those interested in music.
Now of course, given all the recent closures of music venues, this might be a hard one to pull off. T in the Park organisers only this week pointed out how younger folk's attitude to attending festivals has changed. As I said only recently "the kids" don't find the back rooms of pubs cool any more and neither it seems do they wish to stand in a field with a warm pint.
The thing here is whether if venues did appear that should appeal to younger gig goers whether they would actually vote with their feet and turn up or simply just like the gig on Facebook and then stay at home. I honestly don't know whether it would make a difference or not but it is something that I feel should be given a chance.
Edinburgh has never been short of arty little hipster gatherings but to continue with the hipster theme you can appeal to "the mainstream" without that meaning Ed Sheeran and that is what is currently lacking. I'm well aware it won't be easy. This is not just about the venues but attracting the artists to play them, which I'm told is not easy these days either. However, I think for a city of Edinburgh's size and reputation we have to try.
xxx
Citadel gives us food for thought
Thursday was a long day for me as after being at the Usher Hall in the morning I stayed in Edinburgh and went to the Boots For Dancing/ Buckley's Chance gig that night at the Voodoo Rooms with all profits going to the Citadel Youth Centre in Leith.
A lot of familiar faces from the Scottish post-punk scene we hear so much about these days were in attendance and indeed Malcolm Ross is a member of Buckley's Chance with his wife Syuzen Buckley providing the vocals.
Their country leanings aren't normally my thing but they were very good indeed. I was particularly taken with the drummer who with his red shirt could happily have graced a Kraftwerk tribute band and managed to adopt a series of poses that only added to the entertainment.
Boots For Dancing were of course their usual excellent selves and a good night was certainly had by all. Earlier, while consuming a tasty gourmet beef burger at the Voodoo Rooms bar I'd met Willy Barr (pictured), the manager of the Citadel Youth Centre and he was understandably very grateful for all the support that had been shown. You can find out more about the centre and how to support them on their website http://www.citadelyouthcentre.org.uk/
http://www.edinburghnews.scotsman.com/news/opinion/kevin-buckle-how-do-we-get-the-tourists-we-actually-want-1-4430107
Edinburgh Evening News Thursday 20th April 2017
It was great to finally get to see the much anticipated Big Gold Dream on Saturday when it received its first national showing on the BBC. Even at 90 minutes it was never going to be able to fit everything in from what is now known as post-punk but it did a good job telling the story of Edinburgh's Fast Product and Glasgow's Postcard Records.
As somebody old enough to have been there at the time I never remember the phrase post-punk being one we used but it certainly defines a period now that was after punk but before indie labels really came to the fore.
In fact the claim that indie labels first started in Scotland, influencing those that followed such as Factory, was made well and while Bob Last and Hilary Morrison were both there to tell the story of starting Fast, even without the enigmatic Alan Horne – the label supremo at Postcard and founder along with Orange Juice's Edwyn Collins and David McClymont – there was enough, including stories from David himself, to give a real feel for how things started.
While other bands like The Associates were mentioned there should at least maybe have been a nod to bands like Simple Minds and Skids, though as I say in the time they had there was never going to be a definitive version covering all bases.
The follow up Teenage Superstars, covering the mid to late-80s, is again looking promising featuring as it will the Shop Assistants, The Pastels, Teenage Fanclub, Jesus and Mary Chain, Primal Scream and labels like 53rd & 3rd and Creation.
The recent Lost in France film covered the early days of Chemikal Underground in the mid- to late-90s and again featured some great names in The Delgados, Arab Strap, Franz Ferdinand and Mogwai among others. Possibly there is one more to be made, Fence Records – The Movie, for the late-90s and noughties. However, I doubt there will be another documentary or film made about more recent times.
Obviously there have been several great bands since then and a few good labels but there has never been quite the same scene again. The Scottish music industry should consider just leaving young folk these days to get on with things and maybe what would come out might be more interesting than the rather regimented scenes we have now.
Then again maybe now that there are so many music schools and courses that just didn't exist all those years ago we will never see a "scene" anywhere again. I'm sure there will be many who will point to all sorts of things as disproving this but really it is because they do not understand how things were in those earlier times. I say all this as an outsider who simply went to gigs and was no part of that inner sanctum in the late-70s but there was undeniably a feeling that things were exciting though, as I've said many times since, we never realised that some of the gigs would with hindsight be seen as very special indeed.
Of course what the documentary did bring home to me was the scale of what I'm trying to achieve with the History of Scottish Music Centre. Covering over 50 years and many genres, I was always aware of the enormity of the task but the one consolation I have is that I will be able to constantly add and adjust as time goes on.
Lots of news to come soon on the centre's first exhibition but for now I can highly recommend watching Big Gold Dream on the BBC's iPlayer and buying the Lost in France DVD.
As for all that "things were better in the old days" stuff. Maybe that's just the ramblings of an older middle-aged man. On the other hand it is very noticeable that so many of the band members from all those eras if not the labels are still around making music. Maybe that is the problem. Scotland is now full of good music and there isn't space for any more as those of us old enough to still buy music stick with what we know.
http://www.edinburghnews.scotsman.com/news/entertainment/kevin-buckle-when-music-was-the-only-fun-in-town-1-4423121
Edinburgh Evening News Thursday 13th April 2017
As a founder member of Record Store Day I remember well the initial hopes we all had for what it might achieve. It is important to remember exactly what the circumstances were ten years ago. Internet sales were really starting to kick in and it wasn't just a case of dealing with the likes of Amazon who weren't paying VAT but others had set up, some shops that had closed, and were selling from their living rooms, garages and for the bigger enterprises industrial units.
At that time artists and labels selling directly was not much of an issue and vinyl for many independent shops was still selling if not in the numbers it had done previously. Indie shops down south were not so keen on vinyl albums but there was still a market for limited edition 7"s.
In the US shops had come together in 2007 to try to highlight the great work independent record shops did on the high street, especially when it came to new artists. In the UK's first year in 2008 there was no product but a few indie's pulled together to put on in-stores and promotions. In the US there were 10 special releases!
By 2009 the UK finally had physical releases and a nice touch for Avalanche was a Tom Waits 7" whih included a performance  of "Bottom of the World" recorded at his Edinburgh Playhouse gig the previous year.
HMV and Amazon were all powerful and would tolerate indie shops being given limited vinyl, a format they no longer cared for or supported, but at the same time many indie shops wanted limited CDs and the more specialist dance and folk shops wanted releases more in keeping with their regular stock. With every shop entitled to at least one of every release it quickly ended up with specialist dance shops having a very limited Blur 7". Not ideal!
At this point the emphasis was still on promoting indie shops on the high street selling mostly "indie" music. There was a criteria for shops being involved and they had to sell music as the majority of their business. Online businesses were not allowed and indeed it was an unhappy compromise that Record Store Day stock was sold at all online but very early on shops had complained that post Record Store Day stock they were left with was slow to sell in their shops.
Second hand shops which had often sold some new CDs, especially as reissues, showed no interest in participating as they rarely dealt with most of the record companies. To this day, while you will see many shops involved who are essentially second hand shops who sell some reissued vinyl and the odd "indies only" new release, Edinburgh's long established shops Vinyl Villains, Record Shak, Hog's Head, Backbeat, Elvis Shakespeare and Unknown Pleasures all leave the day to the shops it was intended for which is to their credit.
From now on though sadly the message would start to be lost. With more and more releases and a gullible public prepared to pay the prices involved, dictated I should say by labels and record companies not the shops, others started to jump on the bandwagon. Possibly even worse the core message that this was a day to celebrate independent high street record shops was lost to the "vinyl revival" and suporting vinyl.
At the same time the big independent labels became less and less supportive and in fact this year with a couple of exceptions twenty of the biggest indie labels contribute only a dozen releases between them.
So now Record Store Day is what it is. Around 500 releases of mostly old reissues, many at eye watering prices, and sold in industrial estates, coffee shops and in one case somebody's garden shed! A week later online mayhem ensues as people who have not bothered to visit a nearby shop buy online when these days virtually everybody has a store not too far away.
Two things that really sum up where Record Store Day is pitched now are the announcement that Elton John is the first Record Store Day legend and the Star Wars Crosley record player. Elton may be a legend but that didn't stop his reissued vinyl being sold on PledgeMusic which doesn't do shops any favours. That the albums in question can be bought in any used store at a fraction of the new reissued vinyl price also raises the old argument about albums being needlessly reissued and clogging up the manfacturing cycle.
As for the Crosley record player I've never seen a good review from any serious publication and if it was just poor sound that would be one thing but it seems to be generally agreed that the player actually damages your records because of the weighting. Like so much vinyl these days the new  Star Wars version may never be used and simply kept on display but it really feels out of place when looking back at what Record Store Day was meant to be about.
Clearly it would be unrealistic to not have expected things to have gradually changed over the last ten years but truth is what was a very well intentioned idea has become commercialised and distorted to a point where it is unrecognisable fron those early years.
It is not about the major record companies taking over as some say. Universal Music, the biggest of them all, were suportive from the start and have always done their best to provide a selection of releases. Meanwhile some of the small indie labels just see it now as a chance to sell stuff they could not shift any other time. The shops too are a mixed bunch of the truly heroic battling against overwhelming odds and those who are just chancers happy to ride the bandwagon.
Support high street record shops, support new music and if possible support new music in high street record shops. So many of Avalanche's old customers recall great memories of having been in the shop, sometimes decades later. I seriously doubt anybody will have fond memories of their internet buys.
Scotland's thriving pop-punk scene
After previous pop-punk recommendations I again stumbled across another band simply because I saw they liked a tweet about Avalanche favourites Withered Hand. Paper Rifles "It Always Rains in Scotland" is a great song and by no means their only one.
You can listen to more on their bandcamp page https://paper-rifles.bandcamp.com/  and all proceeds go to the Scottish Association for Mental Health. A much wiser investment than a dodgy Record Store Day single !
Edinburgh Evening News Thursday 6th April 2017
Much as I have recently banged the drum for popular music being taken seriously as part of the arts and receiving funding that acknowledges that I've had a couple of conversations of late with folk older and far wise than myself who made a very good case as to why allocating funds in all walks of life has to be completely revamped.
These were people old enough to remember when there was no lottery funding and yet the arts still flourished and in fact some would say things were a lot healthier.
Even I'm old enough to remember when it cost £6,000 to make an album. A band had to go into a recording studio and that wasn't cheap. There was no viable home recording equipment then. If lucky a friend might be a graphic designer but I can remember from the Avalanche label in the 80s and 90s the perils of not getting the artwork quite right.
Then with CDs you had to make a thousand and at very best would break even on your overall outlay. Four guys in a band would do part time bar jobs and work in restaurants on top of their day jobs just to raise that £1,500 each to go into the recording studio. Now of course things are so much easier and though it is no doubt harder to get people interested in new music despite the wonders of the internet there is still a real lack of urgency these days in most bands promotion of their music.
As I've discovered throughout the arts the obsession is with funding and the one thing funding is not based on is whether something is a good idea or whether "the art" is any good. Obviously there will always be a problem with subjectivity but now so many other factors come into play from what region you are in to whether you are considered to be from a minority group that should be supported.
What is not allowed for now is how rapidly information and education has become available to just about everybody via the internet. If some clever sod quotes from John Fowles and I don't know who he is it takes me seconds to look him up on Wikipedia and find out he was "an English novelist of international stature, critically positioned between modernism and postmodernism." You will need that later!
Now when I was a kid in the sixties I would have looked that up in the twelve volume Encyclopaedia Britannica we had and if not there it would be a trip to the library. We didn't even have a phone so there was no "phone a friend option" either.
There are many quotes about how important culture is to society and they are not wrong. The thing is that knowledge to a large extent is now available to anybody who searches it out for free while for instance our National Health Service can only need more money as we all live longer and the costs associated with that escalate.    
What these wise older folk were saying is that society needs to completely overhaul the way it looks at allocating  funding of all types and from all sources be that to health, education, housing, the arts or all the other areas that receive monies in one way or another. The reasoning behind this reallocation would be based on the very sensible premise that the internet and technology in general have made our lives a lot easier in some areas and has put a strain on other areas. Reallocating funds to match this can only make sense.
In conversation with a staunch supporter of the old Royal High School and all the associated buildings and views I put it to him that never mind a hotel being built either side if for some reason the demolition of the school facilitated  a state of the art cancer ward the bulldozers would be on Calton Hill tomorrow and nobody would object. He agreed.
So maybe the argument is not popular music versus the visual arts but whether all that arts funding is really the best use of the limited resources we have. That is not to diminish the importance of the arts but to accept they have benefited in a way other areas haven't from these technological times we live in.
So much money is ring fenced as having to be spent in one way or another and maybe it is time to question that. Places like libraries can reinvent themselves and that is to be commended but there are too many areas still where people are simply protecting their own interests, and to be fair their jobs, when all common sense says the money they are receiving would be used better elsewhere.
No matter how hard I try to make serious points on twitter I have to face the fact that what people want are funny cartoons preferably about vinyl with the odd video thrown in for good measure.
This week's cartoons based on a collector's obsession with a slightly darker orange on the label of his record and a young boy in hospital being given vinyl by his nurse were popular but nothing matched a wonderful video created by Gabriel Magallon two years ago that resurfaced after Dave's Records in Chicago posted it one morning in my timeline.
"The Addams Family dancing Blitzgrieg Bop by the Ramones" is all you need to know and it is well worth a couple of minutes of your time. https://vimeo.com/131936997
Great to see Saint Jude's Infirmary are back with a new song "Towards The Great Tomorrow". Introduced on social media with the John Fowles line "Sometimes to return is a vulgarity" the band's return after a long hiatus is welcome indeed.
With an album finished and currently being mastered hopefully it won't be too long before it sees the light of day. I might be wrong but being true to their old indie roots I'm guessing they won't be selling signed test pressings at ridiculous prices or offering a bundle of a t-shirt, vinyl and cassette.
I know they've been away a while but Grant was even talking of releasing a single from the album. It doesn't get any more old skool than that!