The Scottish Pop Music Exhibition Centre
Please take time to read this

I have self-funded this project for over three years using money from my shop Avalanche Records and then when I gave that up in April 2016 to concentrate on this fully from online shop sales and selling much of my own personal record collection.his project for over 
Don't worry I didn't need 11 copies of The Only Ones "Another Girl, Another Planet" and I still have a UK, US and promo copy ! Many other things I had on CD and vinyl so didn't need both and then other stuff I just felt able to part with.
A huge amount has been achieved and there was a successful pop-up at the Fruitmarket Gallery in Edinburgh in June for three days that saw over 1,500 people visit.
We had original copies of sixties beat band The Athenians 7″, backstage passes from Scars gigs, handwritten postcards from Postcard Records supremo Alan Horne and the original paintings for the Arab Strap album "Philophobia" along with more recent items and many other things not seen for decades or in some cases never seen before.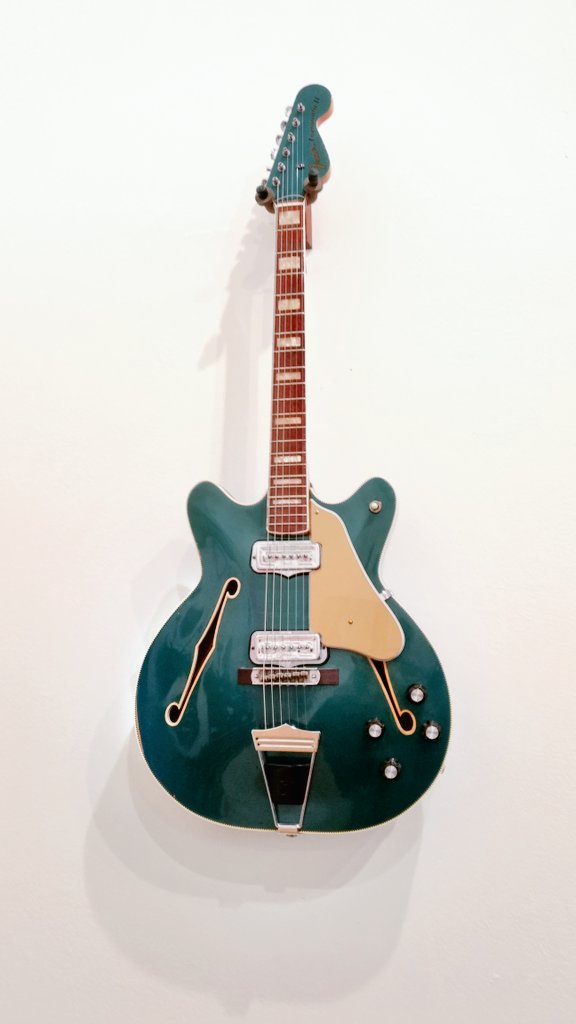 Hanging on the wall as you entered was the guitar Paul Haig of Josef K bought from Edwyn Collins when he was in Orange Juice.
I have been aware since April 2016 that the National Museum of Scotland would be holding an exhibition in 2017 from June to November called Rip It up – The Story of Scottish Pop and indeed such was the quality of the pop-up that some of the exhibits will be loaned temporarily to the museum's exhibition.
The centre now has the backing of Edinburgh Council and has attracted the interest of several potential sponsors both from Scotland and further afield. Covering six decades of music the exhibition will also include labels, artwork, posters, badges, venues, clubs, photographs, memorabilia and even a few shops and the odd pub !
Never intended to just look back at the fantastic history of Scottish pop music the centre will also actively support current artists and recover much of its overheads from shop sales of related music and merchandise. Depending on the space we choose there will be at least a performance space and possibly a cafe/bar/venue.
In order to be up and running in time for May so the centre is ready to complement the museum exhibition I need to dedicate the next two months to getting the project over the line. A £15K research grant fell through a while ago and while £5K will keep things going that higher figure would make a huge difference to what can be done in the time.
For future funding any support shown now will be immensely useful and I'm already incredibly grateful to all those who have helped reach this point where there is no doubt of the quality of the exhibition or the benefits there will be to both musicians old and new and as an attraction for Edinburgh.
There is already a range of exclusive vinyl releases and merchandise planned to coincide with the centre opening as well as gigs throughout the year and some surprises I can't reveal just yet. We intend to work closely with the Queen's Hall as well as smaller and indeed larger venues.
2018 will be a fantastic year for Scottish music and there are other partners I'm in talks with that will give Scottish music and in particular new music a very high profile indeed. Expect some exciting updates !
All the hard work has been done making sure there will be enough interesting exhibits though there are still many more people I need to contact to secure even more for the future. It is intended that there will be new things to see on a regular basis.
A simple donation can be made or can be in return for a voucher that wil be able to be exchanged against any of the releases, memorabilia or gigs. While income is needed even helping with cash flow until the centre is up and running will be a great help.
Once everything is in place a not-for-profit organisation with a board will be set up to oversee the centre. This will then make it eligible for grants and other types of support in the future. All vouchers will be my personal responsibility.
Many thanks for taking the time to read this.
Fruitmarket exhibition pic by Chris Scott
Guitar pic by Graham Purnell
Please use the link below